Alisa - 1377
Photo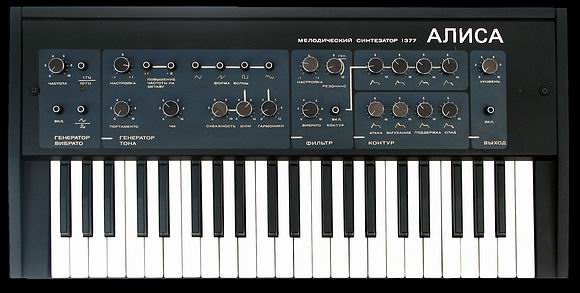 Description
This electronic musical synthesizer intends for signal's design of audible range of band with a possibility to play solo musical compositions. It can be used to create audio effects if connected to the outward acoustic device.
The synthesizer can be used as a non-standart electric signal's source for scientific and educational needs.
The synthesizer consists of the following main blocks: control unit, tone generator, vibrato generator, filter, contour and output.
TONE OSCILLATOR - waveform, frequency modulation, modulation amount, impulse width modulation, harmonics, portamento, tuning, octave +1/+2. VIBRATO OSCILLATOR - waveform ("N"), frequency, 1Hz/10Hz, ON (modulation). FILTER - adjustment (cutoff), resonance, vibrato, contour on (contourosc) - attack, release, sustain, decay OUTPUT - level, on.
Specifications:
Keyboards volume:
- octave
3,5
- keys
43 (F1-c2)
Audible frequency range:
- octave
5,5
- notes
67 (F1-c4)
Relative error of tone's frequency from uniformly tempered pitch.
- for goods of top quality
max 0,30%
- for goods of first property class
max 0,45%
Relative frequency instability of the main generator over 4 hours of continuous work
max 0,50%
Temperative coefficient of frequency of the main generator in the temperature from +15 to +35C in module
per./deg.
max 0,10
Sound output, max, V
1,0
Relative level of noise and background in a rest, dB
max: -60
Mains voltage with frequency - 50Hz:
- min, V
198
- max, V
242
Max power consumption, V*A
max: 7
Mean time between failures (MTBF), hrs., max:
- for goods of top quality
1950
- for goods of first property class
1500
Wheight, kg, max
- wheight
10
- with case
6
Dimensions, mm
max 700õ360õ150
Case's dimensions for transportation, mm
max - 900õ400õ200
Luberetskiy factory of musical instruments.
Photo

Sounds
Alisa - 1377 | Manuals | Schemes