Electronica EM - 15 VENTA
Photo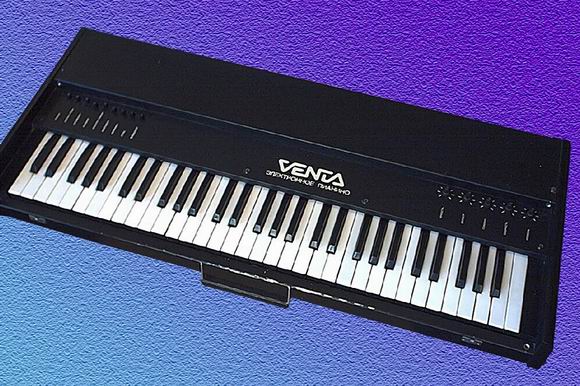 Description
EMI Electronica EM - 15 is manufactured by the factory of research institute "Venta" in Vilnus. It is 5 octave, polyphonic and portable instrument. It is designed to play variety and classic compositions as solo and accompaning instrument both in professional and amateur ensembles. It also can be used at home. The case of EMI is a part of protective casing of the device.
The instrument provides the following features:
a good frequency stability of the main generator by the use of quartz frequency control
pitch scale is close to ideal uniformly tempered one
a possibility to shift the whole pitch on +/- 1/4 tone
Wealthy timber coloring of sounding with the possibility to switch from organ sounding to percussion
This instrument can play the real sounding of piano. There is controlled flanger effect that creates surround in space. It changes sounding during playing composition using different useful effects.
Specifications:
Registers of the manual:
a) hand-operated volume control that plays soundings of piano, clavecin, banjo, electropiano, vibraphone
7
b) organ's sounding
7
Total audible range
5 octaves
The error of soundpitch's interval relative to uniformly tempered scale
max 0,05 %
Frequency instability of the leading generator in automatic condition over 30 days
max 0,1 %
Frequency instability of the leading generator in manual condition over 4 days
max 0,3 %
Rated outlet voltage in a load 47 kOm
max 0,25 V
Signal/(background+noise) in a pause
60 dB
Weight
max 25 kg
Dimensions:
938õ410õ125 mm
Sounds
Electronica EM - 15 VENTA | Manuals | Schemes