Estradin - 8B
Photo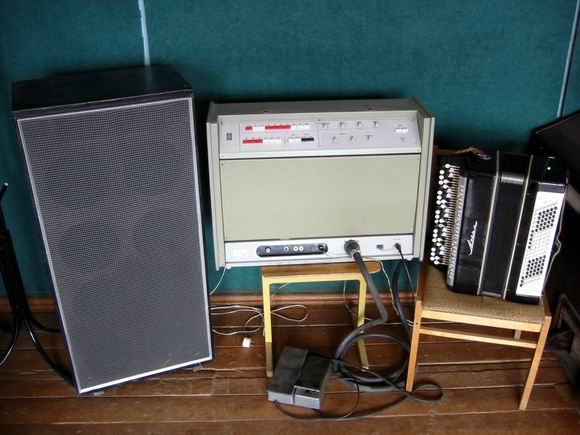 Description
Estradin - 8B is a combined electronic bayan, that was first created in Soviet Union. It plays sounding of mechanical bayan and organ music with different timbres. It plays percussion, percussion-noised sounds and different musical effects.
Using this instrument one can get combined sounding of mechanical bayan and electroorgan. It's not very difficult to play this instrument because the technique dosn't differ from playing mechanical bayan. In the short time one can learn to play easy compositions. You are just pushing a button and hear a sound until you take finger away. It provides a continuous shift of tones. If you are a professional bayan-player, you will appreciate it at its true value because it suits well for playing arragement of any musical composition in orchestra and ensemble.
Specifications:
Registers' volume:
melodies

subharmonic 16'
3 timbres 8'
4 timbres 4'
2 timbres 2'

accompaniment

3 timbres 16'
3 timbres 8'
Range of main tones
6,3 octave ( from "F" contraoctave to fourth "G" )
Keyboard of the bayan contains
1 button of melody from "G" to "G", 120 buttons of arrangement from "F" to "E"
Keyboard of melody
three-row
Keyboard of accompaniment
six-row
Frequency vibrato
control in frequency and depth
Tremolo
controlled in frequency
Reverberation (postsounding)
separate from melody and accompaniment
Beat
with pedestal control
Sounds of rhythmic accompaniment
drum, brushes
Timbre glissando
controlled by a pedal
Volume control
manual and by pedal
Power cunsumption
120W
Dimensions:
- speakers (without stand)
1000x500x300mm
- electric module
700x510x270mm
Weight, max:
- mechanical bayan
14kg
- acoustic plant
30kg
- electric module
31kg
Non-linear distortion factor of power amplifier in range from 100 to 1000 Hz (Power is 20 W) max 1%
Rated power of acoustic plant - 30W. Module of electric resistance of an acoustic plant (4+/-0,6) Om
Power source is lightning electricity supply. Voltage is 127 or 220V (frequency is 50 Hz) The instrument keeps on working when voltage is changed from -15 to +10%
Don't place the instrument in a room where the temperature is less than 10 C or greater than 40 C and the humidity is greater than 80%.
Photo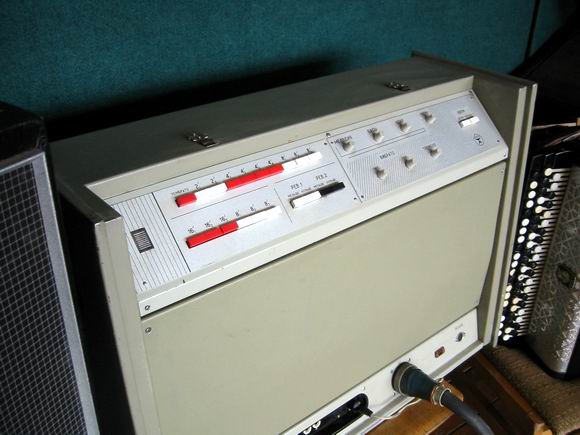 Sounds
Estradin - 8B | Manual | Schemes