Unost'- 75
Photo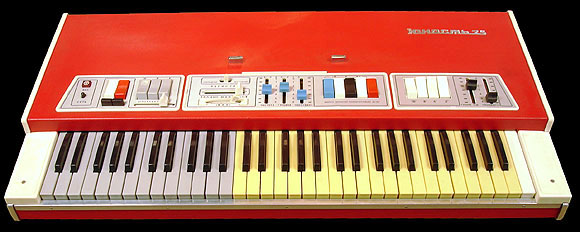 Description
UNOST'-75 is a transistor portable polyphonic EMI. UNOST'-75 is a multi-timbral instrument. Sound timbre may be changed, at player's desire and depending on the nature of music played, with knobs and sound synthesis control keys. While changing, the sounds of one or several octaves are mixed. Mixing makes it possible to vary a sound colour over wide range and to provide characteristic genre sounds, from pop and folk music to organ sound.
UNOST'-75 makes it possible during performance to swiftly change a sound colour using various effects: frequency vibrato, timbre vibrato, timbre percussion, drum and brushes imitation, and timbre glissando. UNOST'-75 is an instrument with a wide range of application, from home performance to ensembles. It may be used both as solo and accompanying instrument, depending on the player's desire. UNOST'-75 provides the opportunity of non-microphone recording with playback for the player through headphones. Volume control is performed with foot pedal. The instrument is made in a light-alloy body.
Below in the front part of the body, there are separable planks; being removed, they open access to oscillators' tuning cores. In the lower part of the body, there are an output for power cord (AC 127/220V-50 Hz), voltage switch with a fuse, sustain pedal jack, and control jacks 1,2,3:12 (oscillator outputs).
Specifications:
Number of octaves in the keyboard - 5;
Number of octaves in the sound range - 6;
Frequency range from C great octave (65 Hz) to H fourth octave (3951 Hz);
Number of sound synthesis registers - 4;
Nominal output voltage at a load of 100 kOhm - not less than 0,1 V;
Power consumption within 40 W.
Power supply circuit of oscillator base is stabilized so as to ensure voltage stability in case of AC voltage fluctuations up to +10% of nominal value.
Dimensions - within 980 x 520 x 220 mm; height in leg-mounted version - not more than 855 mm. (Height doesn't include a stand).
The weight without package and case - within 40 kg, with package and case - within 55 kg.
The number of control knobs - 7; control keys - 15; drum control and brush control button switches - 2
Photo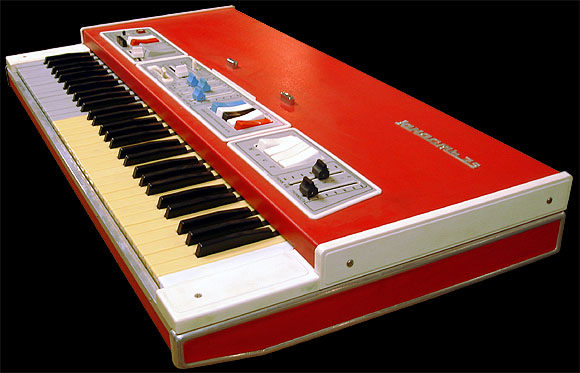 Photo

Sounds
Unost - 75 | Schemes